Large Magnet Board Travel The World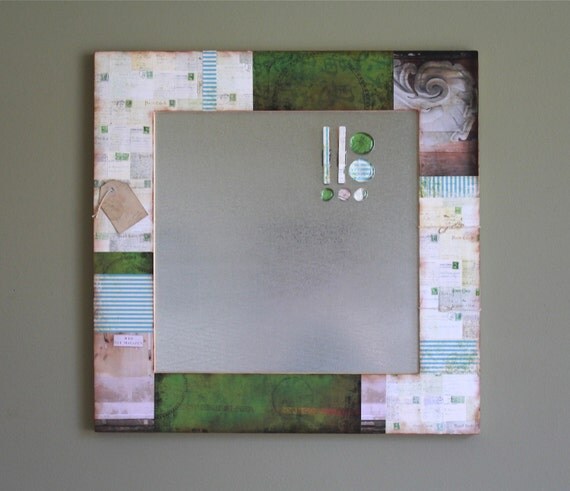 Travel The World Magnet Board will look Great on your wall or a wonderful gift for someone you love. This Magnet Board is made with the traveler, or traveler at heart, in mind. Great for displaying your treasured photos, notes and more.

ITEM DETAILS:
The Wood Frame measures approx. 22 3/8" X 22 3/8"
Top back of frame has 2 slider key holes 16" apart for hanging
Magnet Board measures approx. 15.5" X 15.5"

The Paper Print includes: post cards, Rio Del Magazen sign photo, light blue stripes, oriental designs and writing, wood and wood embellishment.
The frame adorns 2 hemp ties and "baggage" tag.
The frame edges show their natural wood finish.
The frame sides and front are sealed with a protective coating.
The Magnet Board is made with galvanized steel.

You Also Receive 7 Coordinating Magnets:
2 Large Glass Marbles - approx. 1 1/2" diameter
3 Small Glass Marbles - approx. 1/2-3/4" diameter
2 Magnet Clips - 3 1/4" X 3/8"
Custom Orders Welcome!
~ If you would like additional magnets!
~ If you would like different colors/pattern paper!

I would be happy to do a custom order for you!
For purchase or orders contact me here.